PMR attends Ipack Ima with several innovative machines: the Roller Capper, a machine with a capacity with a hourly production of 6000 pcs/h, adaptable to various types of caps, controlled by brushless motors, equipped with digital panel with tele-assistance and interface to external systems in Industry 4.0 logic. For this project we also worked on HMI (HumanMachine Intertace), developing an ad hoc software capable of managing the format change, easy and fast, that integrates with business and management systems in smart manufacturing.
In the exhibition there will also be the new Monobloc PMR MFC 22, a machine for filling jars with liquid/dense products and capping with twist-off capsules. The dosing unit consists of an AISI 316 stainless steel pump and a two- way pilot valve, synchronized to the dosage.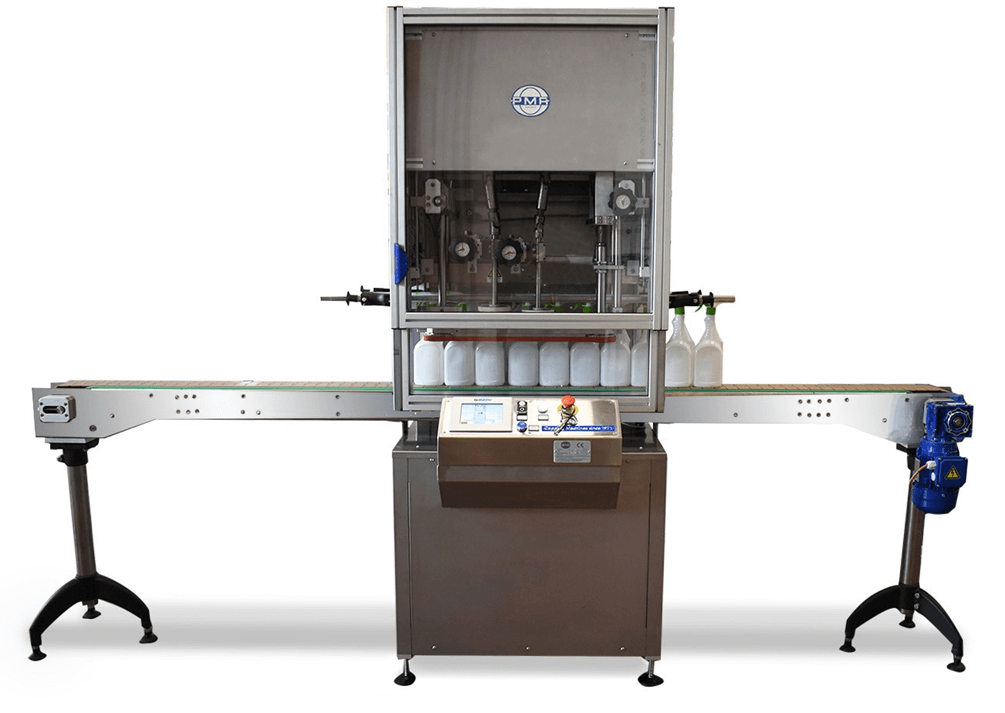 The capper has a head with pneumatic motor, with torque adjustment. The system has a capsule feeder, with adjustable descent channel for different formats and capsule presence control device. This machine, with independent operation, can be adapted to the needs of the customer, depending on the product and the container to be packaged.
PMR has been manufacturing packaging machinery for over 50 years and the labellers it offers are distributed all over the world. Among the historical models, now renewed and enhanced, there are: the M3010 FB labeller for the simultaneous application of 2 labels, the M3005 T for the application of labels on cylindrical, the Robottino for the marking of flat boxes, the CLASSIC NEW3 and PRINT & APPLY LM heads and all table top, semi-automatic packaging systems.
The M3005 V labelling line for C-shaped label application on trays produces up to 3,000 pcs. /h and is a system much appreciated by cheese and fresh pasta producers.
PMR labellers can be used both offline and connected to other packaging machines (e.g. filling machines, thermoforming machines, cappers). In the labelling lines, to allow connectivity to the company network, a hardware expansion, a PLC and a program are installed. This allows communication with the equipment and have various available information; it is also possible to create an integration with the company management.
From a survey conducted by IlSole24 ore and Statista, PMR was among the 200 companies champions of Export 2022, this thanks to the ability to follow the customer throughout the supply chain, up to the installation which is carried out directly through highly specialized distributors.
PMR has adapted to the market with excellent prospects, continued its research and development process, investing in high-performance materials and application software for Industry 4.0.
PMR SYSTEM GROUP attends Ipack-Ima Pav. 2P – Booth A114