Based in northern Italy, in Desio, in the province of Monza and Brianza is a manufacturer of automatic and semi-automatic solutions, with some patents, for application on various types of products.
One of the focal points that unites Packin equipment is operational simplicity. Always at the center is the operator who, according to the internal design philosophy, must have ergonomic working positions, operational simplicity, easy loading of label rolls, rapid format changes, automatisms, and synchronization of the moving parts with the use of solid innovative technology making everything simple and intuitive to use.
High quality components, abundant use of stainless steel even for all screws, the constructive modularity, lead Packin products to be reliable over time with an excellent quality / price ratio.
Packin has also brought some innovations in the semi-automatic machines sector: the Pk-52 model, a compact and industrial label applicator for round products with diameters between 10 and 100 mm and 160 mm wide. It can apply a wrap-around label or two double-sided labels.
Can be connected in-line to the inkjet color printers of the major manufacturers, thus allowing many advantages including complete autonomy in graphics creation with savings on the purchase of stock of customized labels.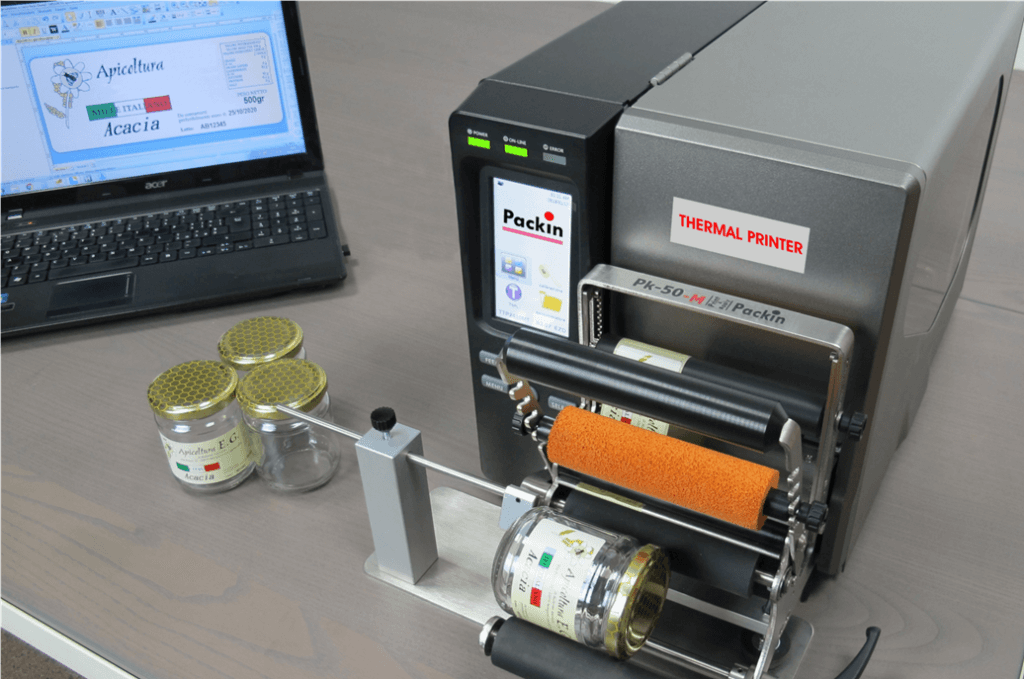 The label graphics, complete with all the necessary variable data, are managed in real time from printing to application on the cylindrical product in a single step, producing about 1200 pieces/hour. The Pk-62 model allows labeling of small objects with fall down the product after labeling is finished. It allows runs of about 2500 pieces/hour. The product size limit for this model is 35mm in diameter and 100mm in height.
Another patent (from 2012) covered by Packin technology is the semi-automatic printing & applying system for round objects integrated with the thermal printer mod. Pk-50M.
A motorized rotator integrated with some thermal printer models allows to apply labels with variable data overprinting on round products with diameters from 10 to 110mm. and with label passage up to 104mm. Depending on printer type are available at 200, 300, 600 dpi. Productivity is about 1000 /hour.
Packin's automatic in-line labelers, Pk-LINE-Easy, offers compactness, performance, modularity, use of highquality materials such as brushless motors.
Are dedicated to round products to apply wrap-around, front/back labels, labels in phase with the seal, etc. Possibility to install accessories such as inkjet markers, photocells for transparent labels, etc. Some different configurations to applying up to 6000 pieces/hour.
Pk-80: automatic applicator for small round objects with a diameter from 10 to 35mm. The machine is equipped with a product alignment system through a video camera that works in combination with a vibrator.
The products are then loaded onto a ribbon and carried between the rubberized rollers where they are labeled and then ejected downwards where a container collects them. Productivity of about 2500 pieces/hour in a fully automatic cycle. Possibility of connections to thermal printers, TIJ2.5 inkjet marker.