Packaging solutions experts Essentra Tapes is set to headline next month's Packaging Innovations event in Birmingham. Rippatape® Halo, the jewel in the crown of its ECO Range, will step into the spotlight on the 15 & 16 February at the largest annual event connecting packaging specifiers and buyers with the suppliers, new materials, formats and expert knowledge. 
Essentra Tapes' already much sought-after breakthrough solution looks set to turn plenty of heads across the twoday event, which represents a unique platform for directors of packing and filling operations to solve their manufacturing challenges and understand the key trends and technologies that will define their future investments, "We can all agree that the most important innovations in the packaging industry today are those which are going to push forward the sustainability agenda," said Essentra Tapes' Head of Marketing & Development, Ian Beresford.  
"E-commerce's rapid and vast expansion presents new challenges in shipping and packaging. This is the perfect platform to showcase Rippatape® Halo and our expanding ECO Range.
"The retail environment has never been more exciting. It's more competitive but also changing more quickly than ever before. As the E-commerce market matures, new and more innovative forms of packaging are creating opportunities to make the online retail experience more engaging, targeted and less wasteful."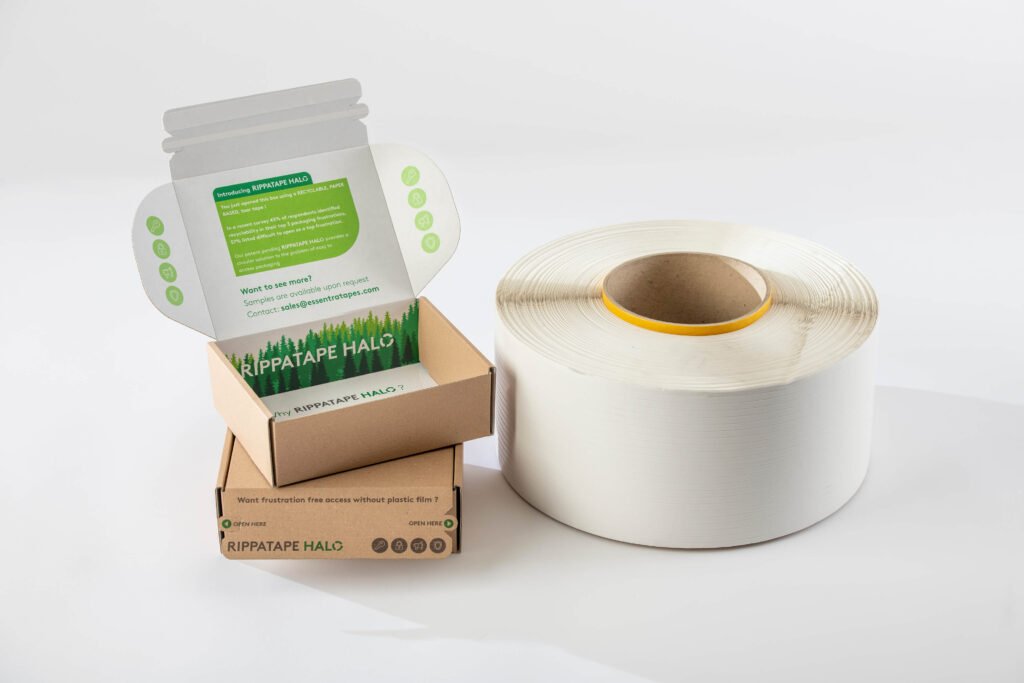 Rippatape® Halo is targeted at the E-commerce market and aims to help packaging manufacturers and brand owners alike as they seek to exceed consumers' environmental and product experience expectations.
As the first paper tape of its kind in the Essentra Tapes ECO Range, it is externally certified as recyclable with paper achieving an A+ level via the Italian National Recyclability Standard: UNI 11743 and MC 501: 2017 criteria.
With a tearing performance comparable to our marketleading Rippatape® 60, Rippatape® Halo does not compromise on the easy opening credentials of its plastic alternative. This is truly impressive from a product based on a single-ply, specialised coated paper with no plastic films or laminates.
"New thinking on how companies can deliver on critical objectives while producing enhanced environmental and socioeconomic benefits is necessary for any company wishing to become genuinely sustainable," added Beresford.
"An eco-evolution is happening on our doorsteps. But how do we join the dots between seemingly disparate customer demands, sustainability, and value? That's what we'll be looking to articulate on stand P72 across the two-day event."
The UK's largest annual event, which connects specifiers and buyers with suppliers, new materials and formats, and expert knowledge, is placing a strengthened focus on driving business and innovation at every stage of the packaging journey, from design and development to packing, filling, and fulfilment.
For more information, please visit