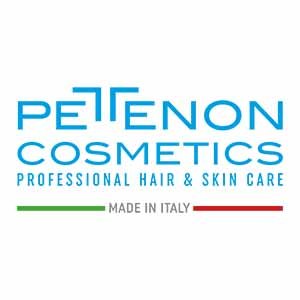 It provides high-quality professional products that can be customized
"Bringing out the best of beauty in every detail"
"We work with dedication and passion"
For over 70 years, Pettenon Cosmetics SpA has been supporting high-quality Italian Professional Hair Care in Italy and worldwide. It is now part of a 100% Italian specialist Professional Hair & Skin Care group that is one of the leading names in its field.
Pettenon Cosmetics SpA has a sales network that spans 91 countries and substantial experience in all of the main global markets. It provides high-quality professional products that can be customized to suit the needs of specific markets and various types and conditions of hair.
Its constantly expanding and evolving production site in San Martino di Lupari (near Padua, Italy) specializes in targeted hair care and beauty treatments. Every day it produces 170,000 items, including shampoo, masks, styling products, hydrogen peroxide, and other technology goods.
It covers the entire production process: blowing and screen printing packaging, manufacturing and packing products, and efficient, automated warehousing and logistics. In addition, quality and innovation are guaranteed by four in-house laboratories: one for Research & Development, one for Microbiology, and two for Quality Control. The Quality Control department and the Microbiology laboratory constantly carry out meticulous tests on the production batches in order to ensure that the quality of the products is impeccable.
Technical and product development centers work with professional technicians and expert hairdressers, who painstakingly carry out numerous tests on models every day in order to check that products are working and performing properly. They put together utilization protocols and professional tips in order to cater to the needs of even the most demanding clients.
In addition, prompt responses to market demands, safety for end consumers and professional training in its in-house Academies help to keep up the high standards offered by Pettenon to both the professionals who use its products in their salons every day and the designers who make the most of them in the creative hairstyles flaunted in international fashion shows.
Food Africa and Pacprocess MEA to launch in December with an even larger area
Following the success of Food Africa and pacprocess MEA last year, concrete plans to expand this year's duo of trade fairs have begun. Here, exhibiting companies can expand their contacts in Africa and the Arab region in a targeted manner. Food Africa, Africa's leading trade fair for the food industry, will take place together with
SUPPLYONE revolutionizes medical and pharmaceutical packaging, driving down costs and enhancing profitability
SupplyOne,Inc., the largest independent supplier of corrugated and other value-added packaging products, equipment, and services in the U.S., highlights its innovative packaging solutions specifically designed to address the key challenges faced by medical device and pharmaceutical manufacturers. "Regulatory compliance, product protection, cost efficiencies and waste reduction are major hurdles in the medical and pharmaceutical industries,"
Via del Palù, 7/d 35018 San Martino di Lupari (PD) - Italy