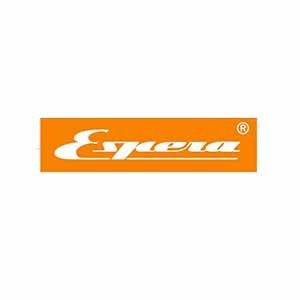 Vision inspection technology
Weigh-price labelling 4.0
Labelling and inspection technologies including full software solutions for the fresh food industry
ESPERA is a fully family-owned company manufacturing weighing, labelling and inspection technologies including full software solutions for the fresh food industry. Since almost 90 years of family tradition, ESPERA is a highly technology-driven company, setting the latest standards and innovations for food production applications. With its global sales and service structure ESPERA is distributing its products within more than 50 countries worldwide via subsidiaries and distribution partners. The headquarter is based in Duisburg Germany.
ESPERA Product News
ESPERA NOVA ES-R – Weigh-price labelling 4.0
Due to its perfect combination of machine hardware & software features the latest machine generation ES-R is a perfect, self-learning and intuitive machine generation. The weigh-price labelling systems are easy to operate compared to a smartphone and within one screen level, all machining process can be easily controlled. Furthermore, unique features, e.g. the integrated smart head thermal bar improves the reliability of labelling systems and optimizes the production process. With this unique thermal head technology, the machine itself gives feedback to the operator, as soon as the readability of the printing on a label is decreasing and recommends to the machine operator settings to improve the printing quality and to extend the lifetime of the thermal head. Due to this, the producers avoid product recalls of the supermarkets due to worse labelled products and improve in parallel the life of a thermal head. This and many other unique, digital technologies are features within the new ES-R machine generation. For sure, classical performance parameters, e.g. machine speed up to 140 packs per minute and a high water protection level of IPX5 are in standard with the new product line ESPERA NOVA.
ESPERA NOVA ES-M – Digitalization in manual weighing & labelling
The manual system ES-M convinces with its unique and intuitive machine operation compared to the operation of a smartphone. The integrated colour-swipe touch screen enables and easy handling. Additional features, e.g. the individually adaptable printing force for a perfect label print and the unique light barrier for automatic recognition of different label sizes and geometries.
ESVS – Vision inspection technology
Since the latest regulations in food declaration, correct label content, as well as the readability of a label, is an absolutely mandatory requirement of the retail industry. Wrong labelled products, e.g. wrong declaration of allergen facts or unreadable barcodes can lead to huge product recalls and high recall costs for producers. With ESPERA´s ESVS Vision Control System, on the one hand, label content, barcode
content and the readability of a label will be fully automatic checked. On the other hand, also, the package can be checked if there is a damage for example within the package sealing.
NEW STUDY FROM CROWN HOLDINGS AND IAI ACTIONS CRITICAL STEPS TO STRENGTHEN GLOBAL ALUMINUM BEVERAGE CAN RECYCLING
Improvements to beverage can recycling practices in six countries around the world could help to reduce global CO2 emissions by up to 60 million metric tons by 2030, according to a new study commissioned by Crown Holdings, Inc. (NYSE: CCK) (Crown) (www.crowncork.com) and the International Aluminium Institute (IAI). Conducted by third-party global management consultants Roland
Oliver Healthcare Packaging strengthens supply chain, adds in-region film & foil production
Acquisition of EK-Pack latest investment to bolster commitment to customers throughout Europe. Oliver Healthcare Packaging, a leading supplier of sterile barrier flexible packaging solutions to the global healthcare market, today announced the acquisition of EK-Pack Folien GmbH, a manufacturer of high-quality film and foil technology, located in Ermengerst-Wiggensbach, Bavaria, Germany. This acquisition includes Vacopack H.
p.zza Alpini d'Italia, 8C 43015 Noceto (PR) - Italy