Asia's Regional Comprehensive Economic Partnership (RCEP), the world's largest free trade agreement (FTA) enforced in January 2022, offers a bountiful of opportunities for the plastics, rubber and petrochemicals sectors in various aspects, giving Asia's advanced and emerging markets a much-needed economic boost.
Rebound of Asia's economy
Asia's trade growth was severely impacted by the pandemic. Slower growth and rising prices, as well as lower demand from recession-ravaged United States, China, Europe, and other trade partners, have also affected growth in Asia. Nonetheless, the region's GDP is expected to grow by 4.4% in 2022 and rise to 4.9% by 2023, according to the International Monetary Fund (IMF) 2022 regional economic outlook data.
Thus, bolstering trade is a strategy that is expected to accelerate recovery. FTAs signed by Asia's advanced and developing economies, as well as emerging markets, provide a much-needed economic boost for the region.
The Association of Southeast Asian Nations (ASEAN), which represents a market of more than 600 million people with a total combined GDP of US$3.2 trillion in 2019, has seven trade agreements, including the Regional Comprehensive Economic Partnership (RCEP), which was signed in November 2020 and took effect in January 2022.
RCEP is a free trade agreement (FTA) between the ten member states of ASEAN (Brunei, Cambodia, Indonesia, Laos, Malaysia, Myanmar, the Philippines, Singapore, Thailand, Vietnam) and its five FTA partners (Australia, China, Japan, New Zealand and Korea). It is the world's largest FTA, covering 30% of the world's GDP and population, as well as approximately 30% of total global trade, and is the first FTA among the largest economies in Asia Pacific.
Currently the world's fifth largest economy, ASEAN is expected to become the world's fourth-largest economy by 2030, with a consumer market worth more than US$4 trillion. This expansion will be aided further by RCEP. For example, RCEP members account for 40% of ASEAN's investments, while non-ASEAN RCEP members account for 24%.
RCEP: Breaking down barriers to easing trade flow
Trade liberalization is at the heart of the RCEP framework, and it will be accomplished through gradual tariff reductions with significant exemptions in sensitive and strategic sectors. Concessions under the RCEP are expected to eventually eliminate tariffs on more than 90% of goods traded among member countries.
Moreover, it is anticipated that RCEP tariff concessions will increase trade among members while diverting certain trade from non-member nations. Lower import prices are likely to lead to higher imports as a result of lower tariffs.
RCEP also aims to align ASEAN's existing FTAs and partnerships with the other five partner economies in a bid to reduce trade barriers and improve investment regulations.
As a result, the economic benefits of RCEP are expected to be immense. According to the UN Conference on Trade and Development (UNCTAD), intra-RCEP trade was already worth approximately US$ 2.3 trillion in 2019, and the RCEP's tariff concessions would upsurge intraregional exports within the bloc by nearly 2% to an estimated US$42 billion.
Furthermore, the RCEP will have a favorable impact on nearly all major industries, ranging from manufacturing to chemicals. Chemicals, for example, are expected to gain US$1.7 billion, for a total increase of approximately US$6.4 billion, of which US$4.5 billion is due to trade diversion.
The plastics and rubber sector is expected to add US$0.5 billion in trade, resulting in a US$1.6 billion increase in trade, with trade diversion accounting for an estimated US$1.2 billion.
Meanwhile, beyond the RCEP, the global plastics and rubber trade has already shown strong growth from industries that rely on these materials, such as medical devices, automotive, construction, electronics, consumer goods, and others.
Reinforcing the plastics value chain; a win for petrochemicals
The plastics value chain has been subjected to a number of disruptive events, prompting Asian companies and businesses to implement strategies to make their business models resilient to supply chain disruptions.
The RCEP's trade liberalization and preservation of multilateral trading systems can generate different trade opportunities for ASEAN and non-ASEAN member countries, thereby accelerating the region's economic recovery.
Petrochemicals, which are essential in the production of raw materials such as polymers used in packaging, electronics, construction and other applications, are expected to trade strongly within the RCEP alliance.
Notwithstanding the supply disruptions and geopolitical volatility, the International Energy Administration (EIA) predicts that the petrochemicals sector will secure more than a third of global oil demand growth by 2030 and nearly half of demand growth by 2050.
China is one factor expected to influence this growth. The colossal country is expected to generate significant petrochemical demand, rising to 780 million tonnes per year by 2030, according to the NPC Economics & Technology Research Institute (ETRI).
Meanwhile, Thailand's petrochemical industry, which is the largest in ASEAN, satisfies demand for petrochemical feedstock, such as naphtha and olefins, particularly in China, which is its largest export market, says Kungsri Research.
Healthy market growth for medical polymers
The global health crisis that affected the supply of personal protective equipment (PPE) and diagnostic health products, which are abundantly made of plastics or rubber, in the previous years has brought access to medical devices to the forefront more than ever before. RCEP is envisioned to enhance market access and ease the flow of provisions like medical devices.
Asia, the largest producer of pharmaceuticals and medical equipment, is expected to grow at a CAGR of 4.4% from 2022 to reach approximately US$225 billion in 2030, with Thailand, Singapore, Malaysia, and Indonesia as revenue drivers and zones for investment and business opportunities.
The Indonesian medical device market is set to be among the fastest growing in Asia, with a market value of US$1.9 billion by 2026. Singapore remains Indonesia's most important medical device export market destination, accounting for 41.5% of medical device exports in 2020, while Japan is the country's fourth largest market, accounting for 3% of the market share.
Thailand, the largest exporter of medical devices in ASEAN, has an ample supply of raw materials such as rubber and plastic used in the production of medical devices, particularly single-use items. In 2020, Thailand's medical devices sector generated an export value is US$13.9 billion, outpacing Singapore (US$13.08 billion), Malaysia (US$12.1 billion), Indonesia (US$4.1 billion), and the Philippines (US$0.83 billion).
Harnessing ASEAN's automotive competence
Because of the region's burgeoning consumer market, integrated supply chains and comparatively lower cost of labor, the ASEAN automotive sector has emerged as a manufacturing hotspot for both OEMs and vehicle parts suppliers.
The automotive sector's inclusion in the RCEP is deemed to be complementary. According to the University of Duisburg-Essen's CAR Institute, an estimated 41.8 million vehicles will be sold in RCEP countries by 2030, accounting for 46% of global market share, and counting.
The huge potential brought by RCEP bodes well for the plastics and rubber sectors, as the automotive industry is the third largest user of plastics after packaging and construction, and a major consumer of rubber.
Thailand, which is Asia's automotive node, plays a key role in the automobile value chain. Several global companies have established facilities in the country for development, design, and other production-related activities since the 2000s.
Today, Thailand is home to several major Japanese automobile manufacturers, as well as approximately six Chinese electric vehicle brands. Meanwhile, Singapore is capitalizing on its electronics and semiconductor capabilities, as well as its stronghold in advanced materials and equipment manufacturing, to serve the global and regional automobile markets.
Unlock the RCEP opportunities at CHINAPLAS 2023
To unlock the RCEP opportunities, CHINAPLAS 2023, Asia's No. 1 plastics and rubber trade fair, will bring together the most innovative plastics and rubber solutions and relevant market trends in one place with an exhibition area of 380,000 sqm under the theme of "A Brighter and Shared Future, Powered by Innovation".
By returning to Shenzhen, the gateway city to RCEP and the thriving innovation and technology hub in Southern China, CHINAPLAS shall converge different end markets and quality suppliers to foster collaborations and inspire innovations. Buyers from all over the world shall discover a well mixture of global and Chinese technologies, covering a wide range of application industries that are transforming the end market.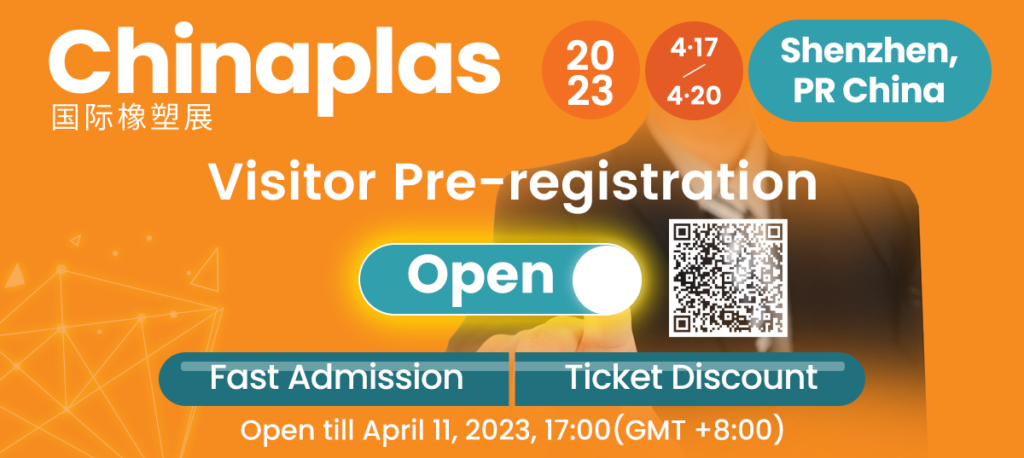 The Online pre-registration to CHINAPLAS 2023 is open till April 11, 2023, 17:00 (GMT +8:00). Visitors can enjoy an early bird discount at RMB 50 or USD 7.5 (Original Price: RMB 80) for a four-day pass. Pre-registered visitors shall receive their Visitor e-Badge or e-Confirmation Letter in advance for fast entry. For more information about the exhibition, please visit www.ChinaplasOnline.com.