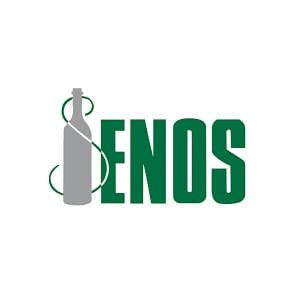 The ENOS range offers adhesive labeling machines to apply labels
Machines complete with capsule closure system and capsule distributor with cap presence detector
But ENOS also means a large commercial network
Enos was born in Canelli in 1976 from the intuition of Armando Scagliola, a technical designer who has always been passionate about mechanics, who translates and realizes the dream of many small winemakers: to label independently, using spaces, small and medium production of bottles.
From this guiding concept, which becomes a corporate creed, ENOS derives prestige and credibility, precisely because it is sensitive to the always different needs that each manufacturer must satisfy.
ENOS produces glue and adhesive labeling machines especially for small and medium-sized wineries: 9,000 specimens, present in cellars all over the world, underlining the business history always careful to catch the market signals, present when the customer is in difficulty, efficient in interventions and after-sales assistance.
The ENOS range offers adhesive labeling machines to apply labels, counter-labels, vintage labels, on both round and square bottles. Machines complete with capsule closure system and capsule distributor with a cap presence detector. Reliable and robust, the ENOS labeling machines were created to work hard years and years, built-in AISI 304 stainless steel, and all in compliance with CE standards.
Customize has always been the flagship of ENOS: labelers equipped with ahead for the use of the DOCG double-sided adhesive band when they occur, sensors and positioning systems for bottles with notches, solutions that require challenges to be overcome, objectives to grow.
But ENOS also means a large commercial network, which translates into timely and competent assistance.
Quality, service, punctuality: words inflated today that are pronounced and written willingly; values ​​that ENOS instead puts every day, with the facts, a disposition of customers.
This is the great strength of ENOS.
Small producers for great wines, therefore, where research, passion, and innovation have been the winning cards for a relaunch of the prestigious Italian enology.
ENOS produces labeling machines with glue and adhesive system for small and medium winemakers:
20.000 machines, installed in the wine cellars all over the world, tell our story because our company is always careful to the signals of the market, present when the Customers face difficulties, efficient in its interventions and after-sale assistance.
Enos has a big heart, just like the best wine in your cellar. Come and meet us…
GPI, the extent of success in the food industry
To manufacture a successful end-of-line plants it is crucial to become customer's algorithm, and to be a proactive listener of his visions, an expert able to provide efficient and personalized answers. It is not by chance then that GPI's motto is "Tailor made innovation with reliability", a catchphrase for innovative, customizable and highly renowned technologies.
Industrial wood packaging
Professional, Rapid and Complete Packaging Service for Shipping and Transportation of Goods. We are specialists in the design and construction of wooden packaging. We make customized products and solutions suitable for every need. We have been working since 1992, for more than 127 companies across Italy and worldwide, in multiple sectors of plant engineering, such
Enos SNC - Via P. Testore 21/25/27/29/31/33 - 14053 Canelli (AT) - Italy