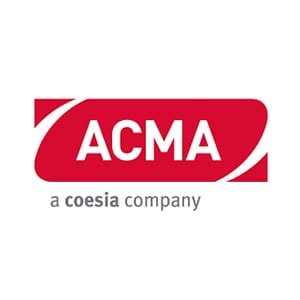 Our Flow Packing machines are recognised for their high performance and speed, as well as for their flexibility and toughness. These qualities combine with their precision in the packaging of the product and sealing of the wrapping, thus guaranteeing longer shelf life.
The stand-out feature of this technology is its flexibility of application in various sectors, combined with the quality of the processes and the durability of our machines. In particular, our superior expertise in the field of soap packaging is widely recognised, as we have refined the processes for managing this product type.
Tea Bags Packing Our machines are highly flexible, allowing users to package a wide range of products and materials, and they also offer various end-of-line solutions. They guarantee high-quality performance, even at high speeds, as well as green - and safety-focused – solutions.
95 years' of ACMA
This year ACMA celebrates the 95 years of its constitution. There are many companies that can boast a long-standing tradition, but few that can show a "genetic heritage" stretching back 95 years.
Directly from our archive a lot of historical videos, blueprints, photos: limitless materials showing were started from, and how far we have come.
A journey through our origins to discover ACMA future!
ACMA is one of the leading manufacturers of packaging machines in the consumer goods market, with a large international share. ACMA designs and manufactures automatic packaging machines for a range of sectors, including:
• Confectionery (chocolate, bakery, candies and gums)
• Detergents and Soaps (liquids, powders and bars)
• Tea and Coffee
ACMA headquarters is located in Bologna (Italy), with production plants also located in the country.
ACMA is part of COESIA, a group of innovation-based industrial and packaging solutions companies operating globally, headquartered in Bologna (Italy).
We have developed seven technologies focused on continuous innovation of the packaging and filling processes so as to remain at the forefront in satisfying our customers' needs. All applicable to consumer goods, their main focus is the shelf life of the products, maintaining their taste and aroma, and precisely applying the wrapping to a wide range of shapes and formats.
MORE THAN 250,000 ATTENDEES FROM 153 COUNTRIES AND 2,984 EXHIBITORS FROM 64 COUNTRIES ATTENDED COSMOPROF WORLDWIDE BOLOGNA 2023
The 54th edition of Cosmoprof Worldwide Bologna, the leading B2B event for the cosmetics industry, came to the end today. Over 250,000 stakeholders attended the event, coming from 153 countries, who had the chance to discover the latest news for the sector.  "Cosmoprof is once again the reference showcase for the industry in the world.
INDUSTRIAL PACKAGING: FOR SAFE TRAVELS AROUND THE GLOBE
A large part of the goods that are produced globally is intended for export. All these goods often need to travel long distances and have to be safely packed for the journey. Therefore, the standards for industrial packaging for land, air and sea travel need to be high. The packaging industry reacts to these requirements with
via Cristoforo Colombo, 1 40131 Bologna - ITALY