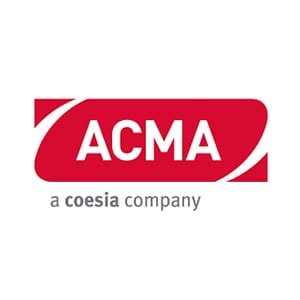 Our Flow Packing machines are recognised for their high performance and speed, as well as for their flexibility and toughness. These qualities combine with their precision in the packaging of the product and sealing of the wrapping, thus guaranteeing longer shelf life.
The stand-out feature of this technology is its flexibility of application in various sectors, combined with the quality of the processes and the durability of our machines. In particular, our superior expertise in the field of soap packaging is widely recognised, as we have refined the processes for managing this product type.
Tea Bags Packing Our machines are highly flexible, allowing users to package a wide range of products and materials, and they also offer various end-of-line solutions. They guarantee high-quality performance, even at high speeds, as well as green - and safety-focused – solutions.
95 years' of ACMA
This year ACMA celebrates the 95 years of its constitution. There are many companies that can boast a long-standing tradition, but few that can show a "genetic heritage" stretching back 95 years.
Directly from our archive a lot of historical videos, blueprints, photos: limitless materials showing were started from, and how far we have come.
A journey through our origins to discover ACMA future!
ACMA is one of the leading manufacturers of packaging machines in the consumer goods market, with a large international share. ACMA designs and manufactures automatic packaging machines for a range of sectors, including:
• Confectionery (chocolate, bakery, candies and gums)
• Detergents and Soaps (liquids, powders and bars)
• Tea and Coffee
ACMA headquarters is located in Bologna (Italy), with production plants also located in the country.
ACMA is part of COESIA, a group of innovation-based industrial and packaging solutions companies operating globally, headquartered in Bologna (Italy).
We have developed seven technologies focused on continuous innovation of the packaging and filling processes so as to remain at the forefront in satisfying our customers' needs. All applicable to consumer goods, their main focus is the shelf life of the products, maintaining their taste and aroma, and precisely applying the wrapping to a wide range of shapes and formats.
NEW STUDY FROM CROWN HOLDINGS AND IAI ACTIONS CRITICAL STEPS TO STRENGTHEN GLOBAL ALUMINUM BEVERAGE CAN RECYCLING
Improvements to beverage can recycling practices in six countries around the world could help to reduce global CO2 emissions by up to 60 million metric tons by 2030, according to a new study commissioned by Crown Holdings, Inc. (NYSE: CCK) (Crown) (www.crowncork.com) and the International Aluminium Institute (IAI). Conducted by third-party global management consultants Roland
Oliver Healthcare Packaging strengthens supply chain, adds in-region film & foil production
Acquisition of EK-Pack latest investment to bolster commitment to customers throughout Europe. Oliver Healthcare Packaging, a leading supplier of sterile barrier flexible packaging solutions to the global healthcare market, today announced the acquisition of EK-Pack Folien GmbH, a manufacturer of high-quality film and foil technology, located in Ermengerst-Wiggensbach, Bavaria, Germany. This acquisition includes Vacopack H.
via Cristoforo Colombo, 1 40131 Bologna - ITALY